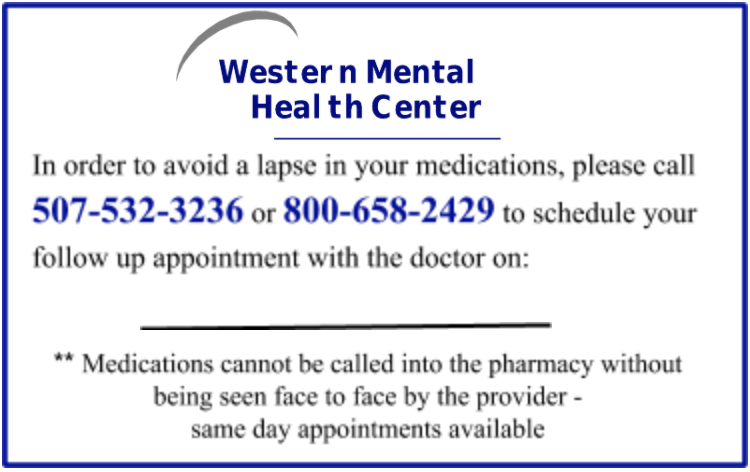 WHO:      Clients at Western Mental Health Center
WHAT:    A new procedure for you to schedule doctor appointments – Just In Time scheduling means we will schedule doctor appointments within 3 to 5 calendar days of when you call for an appointment.
WHEN:   Starting July 1, 2020
HOW:      The medical staff will give you a reminder card when you leave your doctor's appointment. Instead of scheduling a follow-up appointment, the reminder card will let you know when to call Western Mental Health Center to schedule your next appointment. When you call, your appointment will be scheduled in 3 – 5 business days.
WHY:       Currently, many of our doctor's appointments are not kept while we have other clients waiting to see the doctor. We have found it necessary to change the way we schedule to one that is more open, flexible and client friendly.
For example, if you have an appointment with your psychiatrist on July 1, and the doctor wants you to come back in 8 weeks, the front office staff will give you a reminder card that says: "Call us on August 26th to schedule your appointment". When you call on August 26th, the Access staff will schedule your appointment with your doctor between August 29 and September 2, 2020 (3 – 5 calendar days).
Another important change: If you miss a scheduled appointment without notification, you will have to see the doctor on a walk-in basis.  We will not be able to call in and request medication refills, until you have successfully completed the walk-in appointments that will occur at 3:30 pm on Monday – Friday.  The walk-in appointment is a brief appointment to continue your current meds.  You will see an available provider and may not be able to see your regular doctor.
Thank you for your patience as we implement this new system.