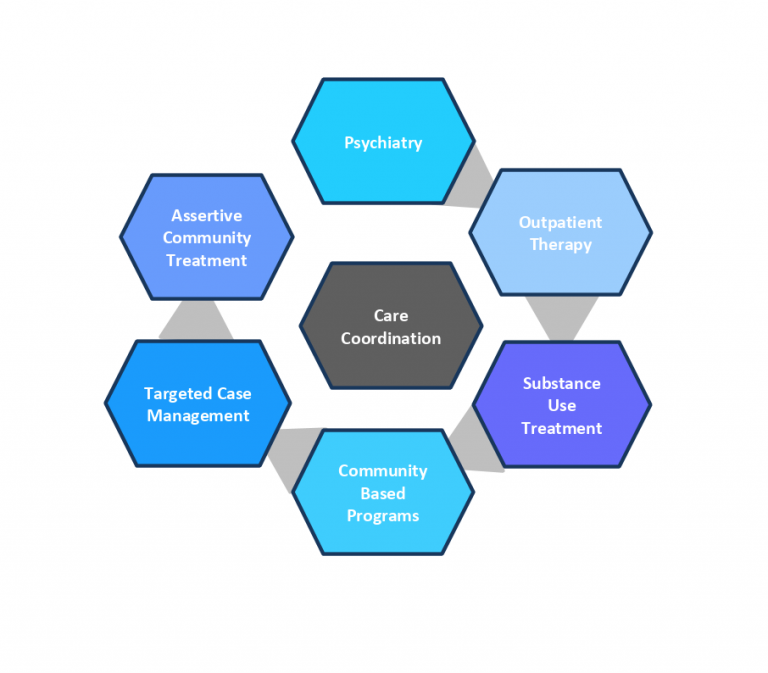 Certified Community Health Care Clinic
Certified Community Health Care Clinics (CCBHC) are a new model for providing services to people diagnosed with a mental illness and/or substance use disorder. This model is designed to make it easier for you to receive the right services for your needs by providing convenient access to a wide variety of services including:
Outpatient mental health and substance use services
Primary care screening and monitoring
Screening, assessment and diagnosis, including risk management
Psychiatric rehabilitation services
Crisis mental health services, including 24-hour mobile crisis team, emergency crisis intervention services and crisis stabilization
Patient centered treatment planning
Targeted case management for adults, adolescents and children
Peer and family support
Services for members of the armed forces and veterans
Care coordination services
Typically a person diagnosed with a mental illness needs to work with several different organizations to receive the necessary services for their care. For instance, this could mean visiting a therapist, a primary care provider, a case manager and a chemical health counselor – all at different places. The CCBHC model changes that by offering these services at Western Mental Health Center. Western Mental Health Center is a certified CCBHC provider by the Minnesota Department of Human Services.
Western Mental Health Center's Targeted Case Management services are designed to help adults with serious and persistent mental illness (SPMI) gain access to needed mental, medical, social, educational, vocational and other necessary services as they relate to a person's overall health needs.
Assessment of functioning along with areas of strength and need
Assistance with development of goals that will enhance quality of life
Help in identifying and developing both natural and community resources to help achieve goals
Assistance with coordinating, referring and monitoring needed services
Advocacy to ensure access to needed services
Assistance finding and arranging transportation service
Your Behavioral Health Home Team will help you with your individual care needs. The team will work closely with you, your supporters and providers to ensure comprehensive quality of care. Together you will develop a plan of care to ensure a healthy lifestyle both physically and mentally.
Comprehensive Care Management
Care Coordination
Health and Wellness Promotion
Comprehensive Transitional Care
Individual and Family Support
Community and Social Supports
Certified Peer Specialists
Our certified peer specialists are available to clients participating in our adult community based programs. Peer Specialists provide nonclinical peer support, a wraparound continuum of services in conjunction with other community mental health services and individualized for the recipient.
Our care coordination team provides levels of care coordination based on client preference.
Reminders for appointments
Coordination of multiple and/or co-occurring services
Integrated treatment planning with multi-disciplinary team and client's social support system
Primary care and other referrals
Immediate needs assessments